Our beautiful country turns 242 years young this July. Here are several 4th of July necessities (some old and some new) to help give the old girl a show-stopping birthday celebration.
Get Running!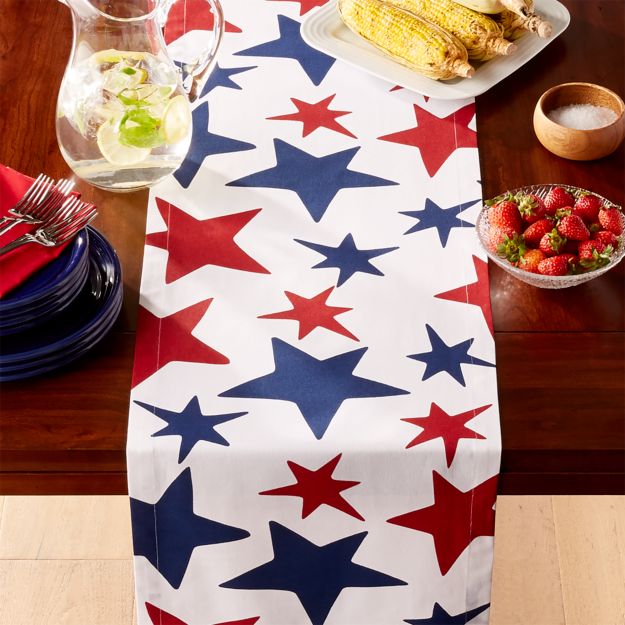 Everyone at one point or another will make his or her way to the table. This table runner from Crate & Barrel has a clean and modern vibe to set the tone. Put it over a red or blue tablecloth for a little extra pizzaz (and extra protection for your table).
Sparklers!
Sparklers are a 4th of July necessity. We think these star-shaped ones are super cute! You can also seriously increase your party game by sticking them in a bottle of champagne! Just remember to supervise the kiddos!
Glow Sticks
Now that your party is sparkling let's make it glow! Not only are glow sticks fun, but they are also a safe alternative for the young kiddos. Plus, it helps you find them in the dark. 😉 This 500 piece set from Walmart makes the possibilities endless! At only $20, that's a lot of glow for a little money.
Make It Sweet
Pretty deserts put a smile on everyone's face! If you're not really a DIY type of guy or gal, your local bakery will have options, be sure to put in your order ahead of time. If you want to make your cake a luxury item, check out what Neiman Marcus has to offer, like this flag cake. Stick a few of the sparklers into it, and wish American a happy birthday!
LED Lights
We first saw those light emitting diodes in traffic lights. Since the LED's introduction, they've expanded from traffic to home decor. They don't get hot and are very reasonably priced. These Pottery Barn red, white, and blue stars are so precious! Drape them along a table or put them into large jars for a festive evening decoration!
Floating Cocktails
From donuts to swans, if you have a pool or look at Instagram, then you are well aware of the pool float craze. But, what about your poor drink? Cocktails like to float too! Check out these star-spangled solo cup floats. You might even consider putting an LED in them at night.
Headgear
If you're the guest or the party-goer, help everyone get into the mood with accessories. From necklaces to hats to sunglasses, a few accessories can help to get everyone in the mood!
Your Patriotic Spirit!
Not to be cheesy, but the biggest thing you need to bring to the 4th of July is your love for America. Yes, we realize not everyone is thrilled with the state of America. Even Kim and Jess are divided on the politics of our nation. But, what we all need to remember is the spirit on which this country was founded. That is a beautiful thing, and one worth celebrating!