Are you heading home this Thanksgiving? Maybe you still have a high school reunion next weekend and want to look your best. When I was a youngin' the night before Thanksgiving was a true homecoming; catching up with friends you hadn't seen since summer or maybe even longer.
If you've outgrown the neighborhood bar scene or are now a mom like me, you still want to look your best as we kick off the holiday season. Maybe you just want to knock-out the other Black Friday shoppers with your stunning fashion taste. Hey, if they're all dizzy-eyed, then that means the more doorbusters you can grab- right?
So, how do you razzle-dazzle next week? Don't forget about the power of the sweater! Sweaters can be cute, sassy, or downright sexy. With leggings, jeans, or the right skirts, sweaters are the centerpiece that will give you that "I-look-great-feeling." Here are a few of our favorites to consider, or just to ogle at!
Fall Sweaters
Alice & Olivia – THE FUZZY CROP

Alice + Olivia CIARA CROPPED SWEATER $495.00
Fuzzy wuzzy! Everyone will want to give you a big fuzzy hug if you wear this cute Alice + Olivia sweater. This adorable furry-capped sweater comes in a few different colors. Don't be afraid to embrace the fuzzy trend. Who doesn't want to be cozy?
MONSE – THE ARCHITECTURAL COLORBLOCK
MONSE Two-Tone Slashed Sweater $950
Yup, this one is pricey, like super pricey. But it's also super awesome. We love the color-blocking and that sexy shoulder peeking out and teasing everyone. Because it's trendy, it's definitely not an investment piece.  This MONSE sweater is for the woman who wants to walk into that neighborhood bar or show up to dinner looking like a million bucks, or at least 950 bucks. 😉
PLAYING PEEK-A-BOO WITH VINCE
Vince Off Shoulder Slit Pullover $177.00
Let's get back to a somewhat normal price range but still with a peek-a-boo shoulder. This Vince off-the-shoulder sweater. Note the same architectural tailer as the Monse sweater, just at about 20% of the cost. One thing, we can't guarantee this look will last.
GETTING FRISKY WITH LPA

Um, did it just get hot in here? You'll definitely heat up the joint in this sexy LPA sweater! If you've got it – flaunt it And if you really want to flaunt it, make sure you button the sweater just like this Miss Thing did.
RIDE THE RUFFLE WITH APIECE APART
APiece Apart Sterre Ruffle Sweater $385
Ruffles have been in for a while now. Why not continue to ride this fashion wave? The strategically placed ruffle creates not only an hourglass figure but also showcases those who are a little more "endowed" as well as giving a boost to those who have a little less to "play with." See- every gal wins with this APiece Apart sweater!
Sparkle Cami
Demylee™ X J.Crew Lurex® metallic threads cashmere sweater tank top $98.00
Ladies, if you've been killing the pull-ups, planks, and curls at the gym – buy this cami. Sure, it's not a full-on sweater. But, it is made from cashmere and it will show off that physique for which you've worked so hard. Thank you J.Crew!
TEXTURIZING WITH BCGB
This BCBG sweater puts a sassy twist on the prepster look. It can be sexy or cute – depending on how you smile. 😉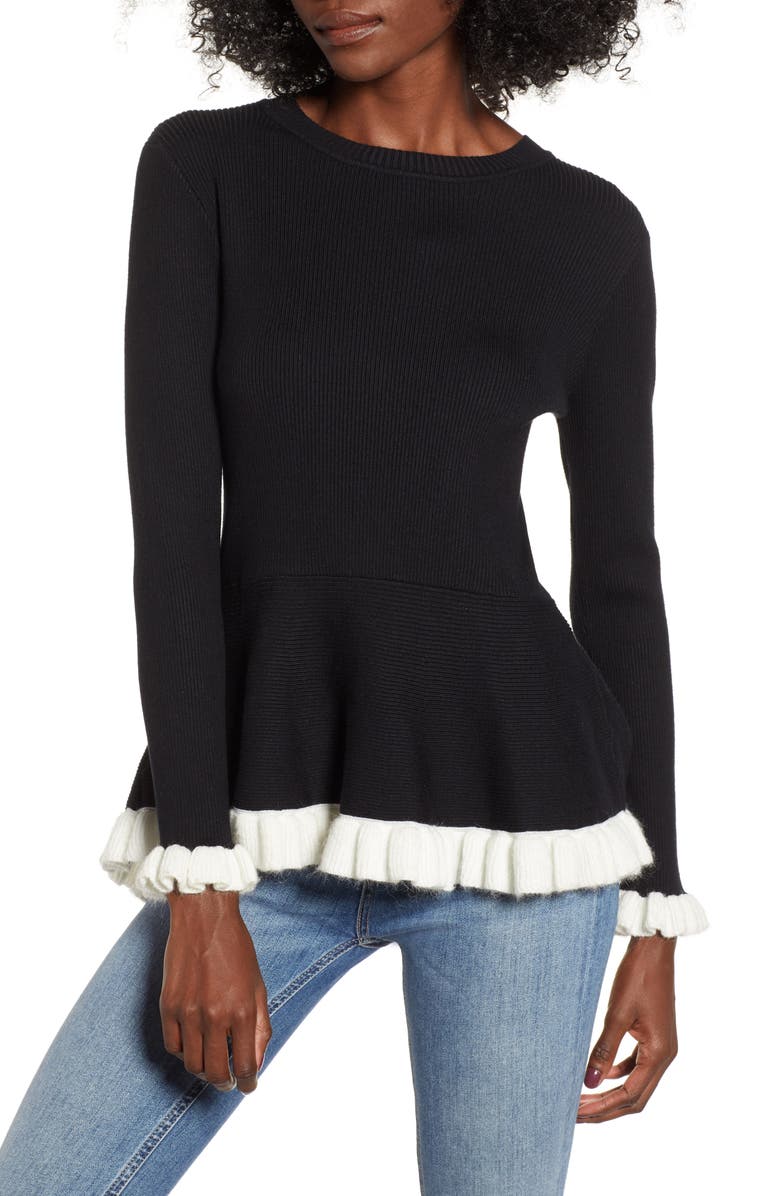 High/Low Peplum Sweater, ENDLESS ROSE $85.00
Thank goodness peplum is still in style! We hope the super-flattering cut never falls out of grace. At $85.00 this sweater will not only make you look great but also won't do any major damage to your wallet.
Chloe Gold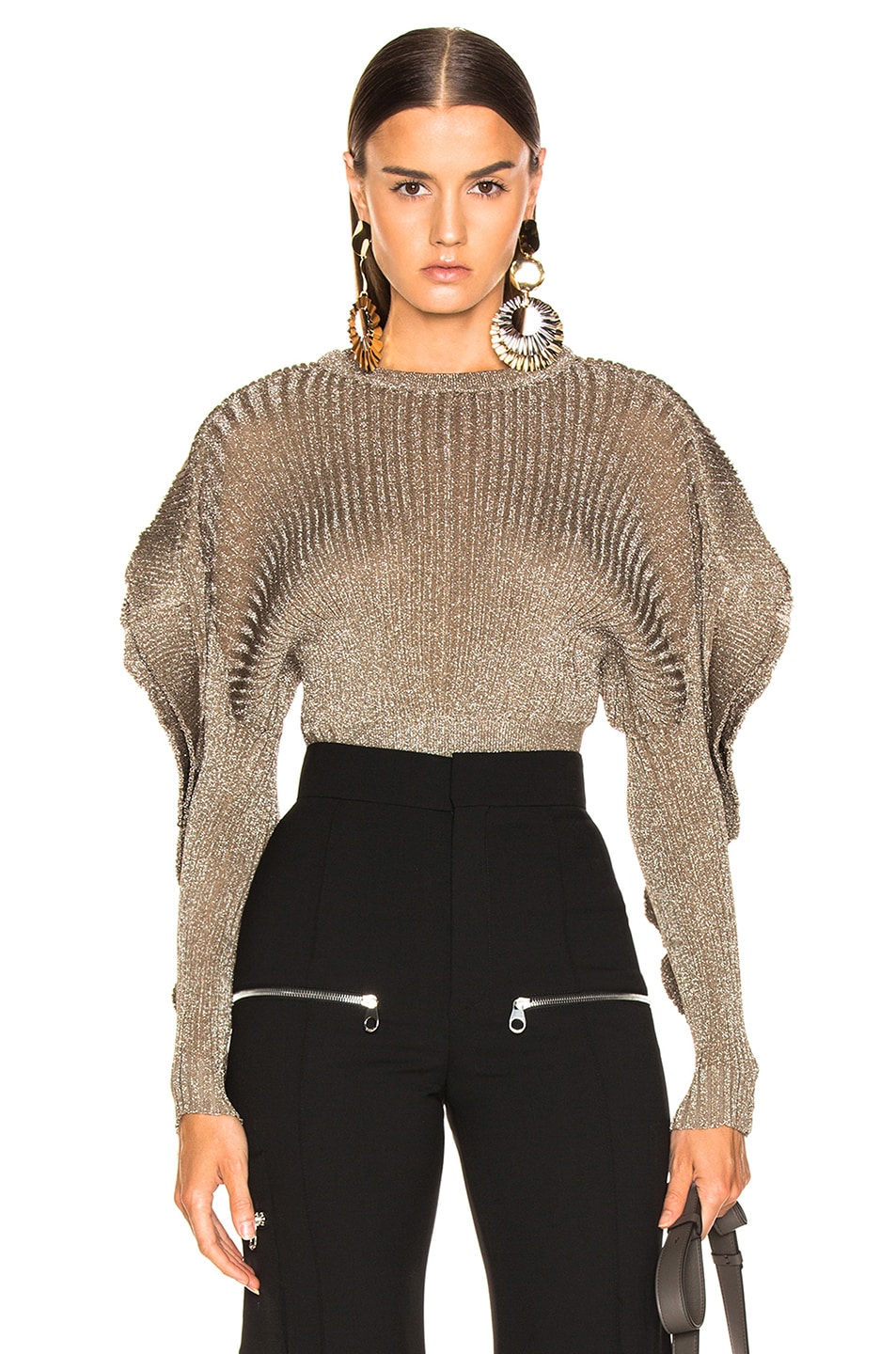 CHLOE Ruffle Trim Ribbed Sweater $1,895
We're ending this fashion post with a big golden bang! Yes, we could buy 50 sweaters for the cost of this one. But, let's just look and admire it, and hopefully find a little inspiration for the rest of the holiday season!
Cheers!