Fill me up! That's what women (and men) are saying to plastic surgeons and medical aesthetic injectors across the globe. They're asking to fill in wrinkles and plump up sagging skin via facial fillers. Some of you might wonder what filler is, which is why we have put together this guide to facial fillers. Some of you might even question why anyone would even want to inject something into their face. The truth is facial fillers are an effective way of maintaining and restoring one's natural facial features.
Our facial structure starts changing the day we are born, becoming fully formed around the age of 20. As we push into mid-life, that face we're so used to seeing in the mirror starts to see big changes once again.
As we age, not only does the loss of collagen, elastin, sun exposure, and lifestyle affect how we age, but even bone loss betrays our once youthful look. Depleting facial bones add to sagging cheeks and jawlines; enlarging orbital bones contribute to hallowed eyes and drooping upper and lower eyelids. Geesh, that sounds rather dim!
In this CT Image, you can see the difference in the younger skull (age 20) on the left, and the skull of an older woman (age 40) on the left. Photo from University of Rochester Medical Center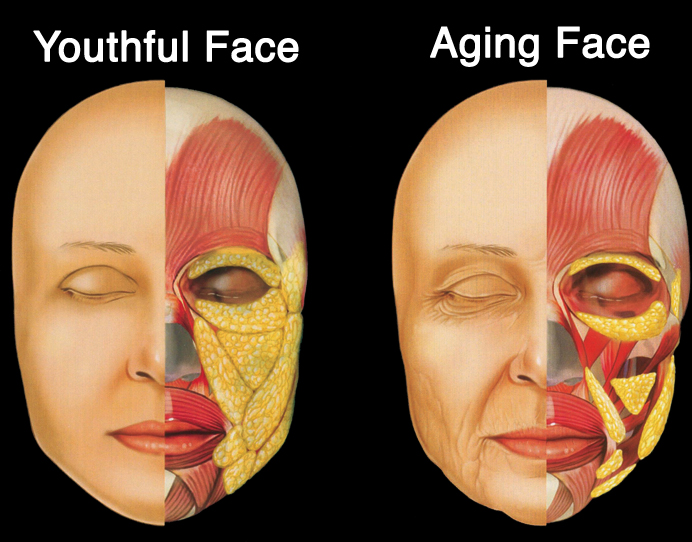 In this illustration, you can see how the loss of facial fat pads contributes to the aging face.
From a high-level view, proper use of fillers is no different than dying one's hair to preserve his or her youthful appearance. However, it is an individual decision. When used correctly, by a trained injector, facial fillers are an FDA-approved mechanism to preserve your recognizable face and even act as a preventative measure for someone who might consider facial surgery.
This concept of filling the voids in the face caused by aging is nothing new. In fact, at the end of the 19th century, doctors were trying to transfer fat as a mean to increase lost volume. While doctors still do use fat transfers in other parts of the body, the evolution of the facial filler has progressed and surpassed simple fat transfer. Today, there are numerous options all promising something different.
We've learned a lot about fillers recently, from PRP (Platelet Rich Plasma) to Bellafill, and there are even more options on the market. So, how does someone know what product to choose? First of all, a well-trained injector should be able to answer that for you.
I wanted to get the low-down on fillers anyway. So, I headed to the one-stop-shop for aesthetics and plastic surgery, Dr. Joseph A. Russo Cosmetic Center. Dr. Russo created AIM (Aesthetics Institute of Massachusetts), where he trains and educates MD's, NP's, and RN's in the art and skill of medical aesthetics. So, I know his staff is well-trained.
Enter Mindy Bernard, RN, a medical aesthetics nurse. Mindy could be one of the sweetest people I've met in a long time. She took time out of her busy day to explain thoughtfully and carefully about facial fillers, as well as her thoughts on aesthetic medicine. First of all, as a mother of four boys, I'm not sure how she has such a calm disposition. I only have two boys, and I start twitching by 4 p.m. Anyhow, perhaps they taught her patience, or maybe it was the 29 years she spent as a surgical nurse at Children's Hospital. Regardless, Mindy has a great perspective on aesthetics and how it ties into life.
Before joining the team at Dr. Russo's, Mindy had her own medspa in Wellesley. During our interview, she brought up an interesting study- did you know Botox is actually being used to treat depression? You can read the details here, But basically, if people can't frown, they feel happier. Imagine the subsequent side-effect of not passing along a frown; sort of like how a smile is contagious. If you can't scowl at the person behind the counter at Starbucks, then they won't "catch" your scowl. We realize Botox is a neurotoxin and not a filler, but still, interesting food for thought. And, Mindy was making a point.
She loves to make people feel good about the way they look, allowing them to give back to the world. It's not necessarily about beauty; everyone is beautiful in there own way. It's about looking in the mirror and feeling youthful and happy with yourself and then carrying that on throughout the day. Right on Mindy!
So, back to fillers, there are so many different types of fillers on the market. They fall mainly into two categories- hyaluronic acid fillers (not permanent) and biostimulant fillers (collagen-building). Within those categories, there are many different options. Here's a quick rundown of the fillers name, the indicated use, and life expectancy.
Hyaluronic Acid (HA) Wrinkle Fillers
Hyaluronic acid is a type of sugar that exists in all of our bodies. In this type of filler, hyaluronic acid is suspended in a gel. When injected into the skin, it pulls water, causing the gel to swell and then "plumps" up the area. HA fillers can last six months up to two years.
| | | |
| --- | --- | --- |
| NAME | PRIMARY USE | DURATION |
| Juvederm | Nasal Labial Folds, Cheeks | 6 to 12 months |
| Juvederm Ultra Plus | Lips, facial folds | Up to 2 years |
| Volbella | Softer gel for fine lines, lips, and under eyes | 1 Year to 18 months |
| Vollure | Lips | Up to 18 months |
| Voluma | Thick gel used for cheeks | Up to two years |
| Restalyne | Tear trough, lips | 6 to 9 months |
| Restalyn Silk | Lips, fine lines around the mouth (smokers lines) | 6 Months |

Biostimulant Fillers
Biostimulant fillers use mechanisms that exist in your own body to stimulate collagen for longer and more natural results. Within the biostimulant category, there are three major types.
Calcium Hydroxylapatite (CaHA) Fillers
Our bodies also naturally make Calcium hydroxylapatite, it's a mineral found in our bones. CaHa fillers are also mixed into a gel. It's a little thicker than the HA fillers. Mindy tells us she uses it deep under the tissue. It can last up to 12 months and is said to stimulate one's own collagen.
| | | |
| --- | --- | --- |
| NAME | PRIMARY USE | DURATION |
| Radiesse | Nasal Labial Folds | Up to a year |
Poly-L-lactic Acid Fillers
Poly-L-lactic acid is a biodegradable synthetic substance. You might recognize the word from those dissolvable stitches. The tiny crystals are suspended once again in a gel, but the gel dissipates after a few days. Multiple treatments are needed, and in that time the body starts to build its own collagen around these fibers.
| | | |
| --- | --- | --- |
| NAME | PRIMARY USE | DURATION |
| Sculptra | Cheeks | Up to 2 years |
Polymethylmethacrylate (PMMA) Filler
Polymethylmethacrylate (PMMA) is nothing new; it has been used in medical procedures for years. PMMA is made up of "microspheres" or tiny balls that are suspended in bovine collagen. Eventually, your body uses these micro-balls as a foundation to stack your own collagen. This is the longest lasting filler on the market and is a great option for someone who might have "filler fatigue", i.e., wants to get the filler and forget about the maintenance.
| | | |
| --- | --- | --- |
| NAME | PRIMARY USE | DURATION |
| Bellafill | Nasal Labial Folds and only FDA-approved filler for acne | At least 5 years. |
---
Keep in mind; a doctor may use one product "off-label," meaning a different part of the face than the product's indicated use. For example, Bellafill could be used to fill temples or cheeks. For some patients, not having to worry about filler every six months to two years is a big incentive. On the other end of the spectrum, for someone who hasn't had filler PRP or Juvederm would be a good temporary trial option.
Mindy says it is essential to find someone who understands the different products and how they work in different parts of the face, as well as someone who isn't interested in just selling product and stuffing your face needlessly. Mindy says you can always go back for more and tweek things, so less is best at first.
---
Thank you to Mindy and the rest of Dr. Russo's staff for taking the time to explain what all this filler is about. Also, thank you to Mindy for her great perspective and for being a rock star mom. 😉