Please don't forget to read our last recommendation for our beach body plan.
---
In one of our latest Haute Life posts, we prepared for our perfect beach day, but then we remembered…
…it's time to put on our bathing suit.
Is it just me, or does anyone else feel like this during the start of bathing suit season? Pasty white legs, less than admirable abs, if there ever where even abs to start. It's like I'm related to the Pillsbury dough boy, and it wasn't his cute little laugh I inherited.
Personally, I dread swimwear and am constantly searching for a better "suited" suit. Just ask the internet. Revolve and Bloomingdales are as equally as excited (not) by the 40 bathing suits I order at a time, only to return, and then do it again. You think they would have blacklisted me by now.
But, this year will be different. This year, we have a plan! Just like this pretty lady below, we've been struck with a great idea!
BTW, We have no idea who this girl is; we just thought the picture was hilarious. Kudos to lightning bikini girl! She's totally electrifying.
GET A SAFE TAN
Our first part of the plan – get rid of the paste! If you have a great spray tan gal, by all means, continue seeing that golden fairy godmother or godfather. Follow their rules – lots of exfoliation and cool showers will help make your spray tan last.
If not, spend money on GOOD self-tanner- that not cheap orange stuff. No one wants to look like an Oompa Loompa!
Quality self-tanner can instantly hide some of the flaws about which we worry so much. Do your first application about 48 hours before your beach trip. Be sure to exfoliate, shave, and moisturize before the application. Then repeat 24 hours later. By beach time, you should have some nice insta-color, which the waves won't wash away.
For self-tanners, I love the St. Tropez starter kit. You will get great color, it's easy to use, and the soft mitt prevents your fingers from looking like you've been making mudpies. It also has a great moisturizer. I like to put the moisturizer on my knees, ankles, and elbows first to prevent awkward staining. This was your glow will look more natural.
Clarins has always been an old standby as well; time-tested and true!
SUITED FOR YOU
Okay, so now that our bodies look a little more toned if only in skin color, 🙂 we can begin with the second half of the plan. Work what your mama gave ya! This is all about picking the right bathing suit. As for that high-waisted bikini, that's an entirely different post!
SHORT TORSO
If you have a short waist, generally, you also have long legs. Here are our suggestions to work those gams, and elongate your back:
The side swirling angles of this Norma Kamali mesh and spandex suit hide the real waistline and create an illusion of a longer torso.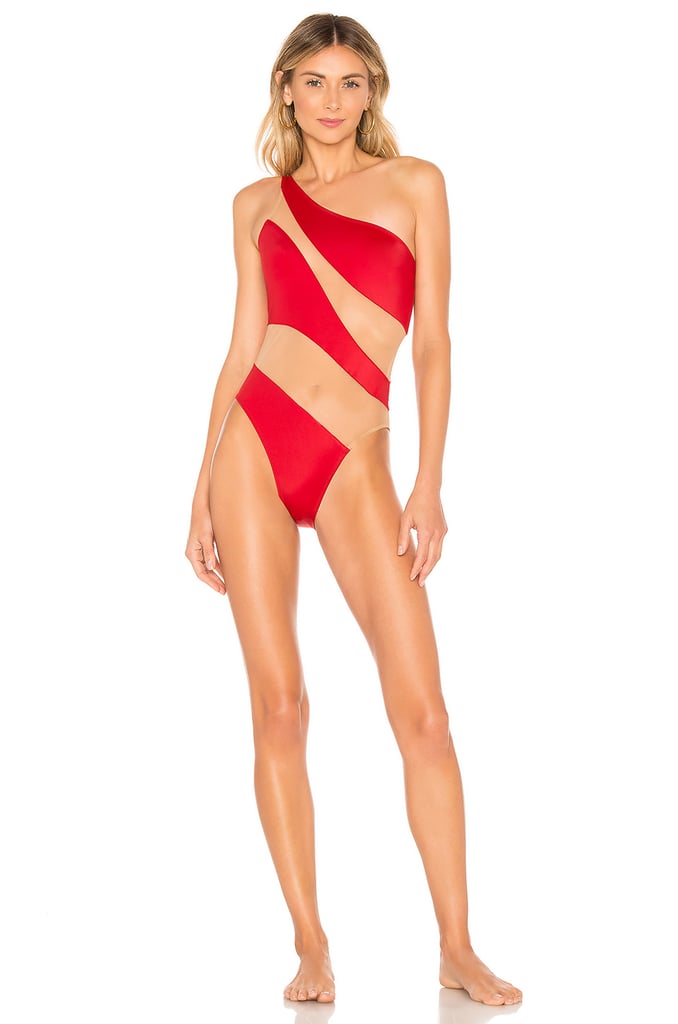 Normal Kamali X REVOLVE Mesh One Piece $265.00
Venus has a gazillion bathing suit options and this string bikini is just one. If you've got the bod to show off, but want to elongate your trunk, a low-slung string bikini will do the trick. Just take a look at where her actual natural waist is.

LONG TORSO
If you're the opposite of a short torso and have a nice long back that goes for days, apparently, the high-waisted bikini is for you! Personally, I'm short-waisted, so if I put on one of those suckers, it practically comes right under my boobs. So, it makes sense that this new trend is for the gals with longer trunks.
I'm in love with this adorable white suit from Venus with a pretty bow accent. I'd mix and match the bottom with a string bikini top.
LEILA HIGH WAIST BOTTOM $26.99
If you have a long torso and short legs, you might consider a high-waisted and high leg cut bikini. The higher cut on the hip gives the illusion of longer legs, like this hot little number from Urban Outfitters.
Out From Under Chloe Scallop High-Waisted Bikini Bottom
$45.00
ROUND TUMMY
Geesh, round tummy actually sounds sort of cute, like Winnie the Pooh. But, we know it's anything but! Thankfully, the swimwear industry has developed numerous suits with built-in "spank" type panels.
The color and cut of this Miraclesuit are absolutely gorgeous and flattering! It's complete with an underwire bra. But, it's the shirring and lighter colors around the waist that makes it a total "cincher."
Miraclesuit Vesuvio Avanti Printed Bandeau One-Piece Swimsuit
$182.00
TIP: Bathing suit sizes run the gambit. Be sure to pay attention to each designer's measurements.
The geometric pattern of this cute suit takes the eyes away from the belly. But tummy control in this Figleaves bathing suit makes it HAUTE!
FIGLEAVES Bondi Beach Soft Tummy Control Swimsuit $20.00
BIG BOOBIES!!!!
If you busts make an entrance into the room before you do, the most important thing about your swimsuit is support. You also need to decide if you want to show off the girls or be a bit more demure and hide that enviable cleavage.
Here's a bust minimizing suit from MiracleSuit. It also comes in an eye-catching purple.
2019 CRUISE MAGICSUIT SOLID GODDESS
$158.00
This Athleta bikini is sexy, but still has the coverage of a bra for your up to DD twins. The asymmetry still makes it fashionable, and the lower cut makes is sexy!
Athleta Honolua Asym Bikini Top $39.99
TINY BOOBIES
If your teacup does not runneth over, no worries, there are plenty of tricks to give your bust some shape.
Lascana.com has some fantastic options for small busts. We (and everyone else on the beach) love this push-up top for maximum cleavage.
PUSH-UP CLEAVAGE BIKINI TOP $44.00
There's no shame in a little padding! This suit from Cupshe.com also has rouching in all the right spots!
KEEP SECRETS HALTER ONE-PIECE SWIMSUIT $24.50
AMPLE BOOTY
If you have a perky tiny bum, really anything goes. For us girls who have a little more sway in our swagger, you can either play it like J.Lo, (which we love!) or find a suit that is a little more modest.
If you've been doing squats and lunges and have a nice big ol' peach, this Montce bottom might be for you! 🍑
The tummy control and high-waist class it up a bit!
Montce Black High Rise Bikini Bottom $72.00
Here's a boyleg maillot with a fun retro feel. This shape will flatter any figure. But especially in the derriere!
This ruched skirt gives fantastic coverage. Feel free to mix and match different tops, from the bandeau bikini top that comes with it or a tankini if you don't want to show so much skin.
VALENTINE WHITE BANDEAU BIKINI WITH SHIRRED SKIRT $75.75
Confidence!
So, we are now tanned and we have the right suit for our body. What's the last part of our plan? Put on a thick suit of confidence! This really is the secret to being a "10."
Honestly, ladies, confidence gives you a glow no self-tanner could match. Those perfect bodies we see in swim magazines aren't on our beaches. Actually, with photo-shopping, most of them do not exist outside the pages of the catalog and the screens of social media. What's even more perfect than those bodies, is that we actually come in so many beautiful shapes and sizes.
I know it can feel as though all eyes are on our flaws when you're mostly naked on a beach. But, just think, when you're at the beach, do you have out a pen and pad of paper and take notes about how other people look in their swimsuits? I hope not! And if you're not minding the physique of everyone else, odds are they aren't paying serious attention to yours either. Instead, they are watching the waves and enjoying time with friends and family.
Wear what makes you feel the most comfortable, and wear it with a smile. Because if all day long your tugging at your suit, or have your arms across your belly, you may become so preoccupied you might miss creating a treasured memory.
We hope our tips will help you feel more like this confident little lady and enjoy your day at the beach!